Is the seat stable?
Yes, you will find it is as stable as a two-legged bench, only infinitely more adjustable, as the patented design allows you to roll in or out of any discomfort.
Is the kneeling position the only posture to use the seat?
Yes, the seat was designed for kneeling only. Sitting on the seat in any another position is unstable.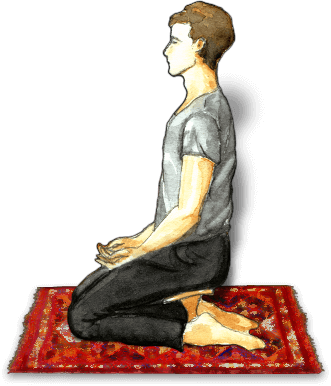 Can I use the seat on a hard surface like a hardwood floor?
We "took pains" to design you an ultra comfortable perch, so when you meditate on our seat please use it on a semi-soft surface like a rug or your yoga mat, or on grass or even on its wool sleeve. If you can't locate a comfy surface you can use the wool sleeve for extra comfort on the seat, under the seat, or under your knees or ankles!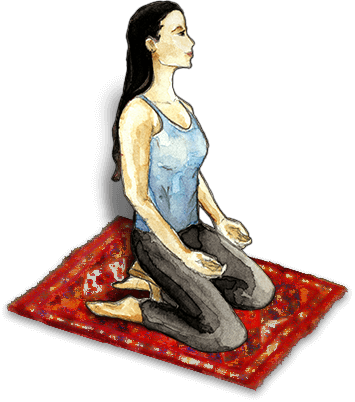 Will the seat fit everyone?
Yes, the seat is comfortable for all shapes and sizes. If you do not find the seat just right, please return it within 15 days for a full refund.
Can I wear shoes while sitting?
We recommend you use the seat barefoot for greatest comfort and ease of adjustment. We find it most comfortable on a rug or mat.
Will the magnets interrupt a pacemaker?
Modern implanted devices have built-in safeguards to prevent them from most types of interference. Our magnet is unlikely to interfere with the normal operation of your implanted device, but to be absolutely safe we strongly recommend keeping ANY magnets away from pacemakers as very powerful magnets and MRI machines have been shown to interfere with pacemakers and defibrillators.
What is the Leg length and seat height?

The taller leg is one inch taller than the standard leg and they put the seat top at approximately 8" and 7" tall respectively. If you are taller than 6'2″, have extra large or muscular thighs or have had knee injury or surgery that curtails your range of motion, then the taller leg may be the right choice for you. If you want to be absolutely certain, order both legs and you may return the leg you don't need for a full refund of the purchase price. If you already have a simplysitting seat, an easy test is to use a folded up hand towel on top of the seat. If that feels better, order the taller leg and return the shorter one for a refund.
Please note that the seat was designed to be used on a firm surface such as a mat, rug, carpet or grass. Using it on a firm surface such as these will give you the full height and comfort of the standard leg. Using the seat on a pillow or a plush zabuton will cause the pedestal leg to penetrate deeper than the shins, deepening the bend in the knees and putting your rear closer to your ankles, effectively lessening the seat height. So if you will use it on a pillow or zabuton, you may benefit from the taller leg.
Will the magnets damage electronic equipment?
No, the magnets will not interfere with or damage your phones, tablets, computers or other electronic devices.
What is the return address?
Our address is: simplysitting shop 152 Main Street, Ridgway, PA 15853
Is there a warranty?
We want you to enjoy your seat for a lifetime of peaceful meditation. We will repair or replace the seat if any component fails due to workmanship. Please email us at info@simplysitting.com in the event you require a repair.